AI-Powered Action Plans
Close the feedback loop with AI-generated insights to build engaged, effective teams.
Turn insights into action
Personalized AI coaching and action plans
Tap into the power of AI to create individualized action plans and coaching from your employee and customer feedback. Radiant AI® takes a deep dive into your data, spotting key opportunities and suggesting next steps tailored to each team. Our platform provides self-service access to proven resources and guides managers and employees to improve skills and tackle challenges. With AI-driven response plans and coaching, you can translate data into meaningful results effortlessly.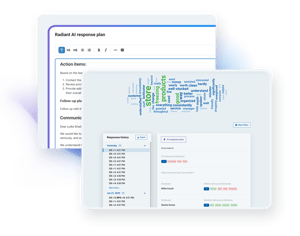 Effective action for every result
Empower your teams with instant, personalized guidance built from proven research.
Survey Response Plans
Every manager gets a tailored report about their responses
Manager Training
Radiant AI provides instant solutions to tough questions
Employee Learning
We auto-create personalized learning paths
Employee Recognition
We spot your unsung heroes who could use a little lift
Succession Planning
Make sure future leaders hold respect from all levels
Diversity and Inclusion
We equip managers with personalized actions and coaching
Radiant AI in Action
See how Radiant AI closes the loop and enables next steps at every business level.
Elevate your leadership with Radiant AI coaching
Personalized guidance for every manager
Unlock your full management potential with Radiant AI coaching. We provide easy-to-access resources and guidance, tailored just for you. Our AI gets to know you, offering personalized advice on key areas like communication, employee engagement, performance management, and managing change. It's time to wave goodbye to one-size-fits-all training and say hello to a smarter, more personalized approach to leadership development.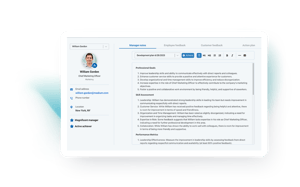 Drive Success with Personalized Action Plans
AI-generated plans tailored to individual needs
In just a few taps, we use your team's survey results, 360° feedback, customer comments, and more to create personalized action plans for each employee. Managers also gain instant access to tailored recommendations that guide team growth and address feedback. Simply ask a question to receive automatically generated guidance based on your organization and data. Radiant AI eliminates guesswork and delivers an easy, effective, and proactive solution.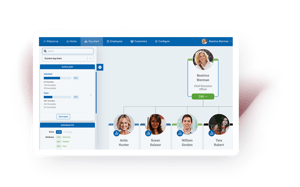 The Power of Radiant AI Action Planning
Transform your business with AI-driven insights
Radiant AI action planning is a game-changer for businesses looking to boost employee engagement and improve customer experiences. Discover the key business benefits of embracing AI in your coaching and response planning.
Boost Manager Effectiveness
Radiant AI provides personalized coaching for every manager, instantly!
Increase customer satisfaction
Automatically generate a response plan for every customer survey received.
Elevate Employee Engagement
Deliver personalized feedback for each employee to foster a fully engaged workforce.
Retain top
talent
Spot and nurture future leaders with data-driven plans and keep your stars shining!

Ready for a demo?
Tap into the power of AI to boost employee engagement and improve customer experiences.