Customer Experience
Transform customer feedback into effective growth
plans with AI-powered insights.
Macorva CX
Listen, learn, and improve
Our advanced Radiant AI® technology generates insightful questions and writes custom reports based on your organization and unique data. In just a few clicks you can easily navigate results with customizable dashboards and send engaging, mobile-first surveys with easily tappable attributes to get qualitative and quantitative feedback in seconds. With Macorva CX, you'll generate higher response rates with actionable growth plans that elevate your customer experience strategy.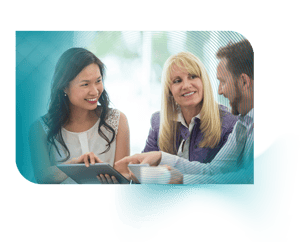 Collect valuable insights easier through modern and dynamic surveys with tappable attributes to answer the "why".
Boost customer loyalty and refine your customer experience strategy with confidence using AI-powered insights.
Generate resources instantly including personalized action plans, customer responses, and data-driven coaching.
Evaluate your brand's performance and reputation to strengthen market positioning with actionable customer insights.
Optimize your digital journey by identifying and addressing friction points in website, mobile, and app interactions.
Location-Based Operations
Tap into key insights across your business locations to streamline operations and drive
improvements.
Elevate patient satisfaction by automating surveys, integrating with EMRs, and leveraging real-time feedback.
Capture user feedback to prioritize feature development and drive informed product roadmap decisions.
Seamlessly integrate your tech stack
Macorva effortlessly integrates with over 30 ticketing and CRM systems, including a dedicated Salesforce app. We streamline workflows and simplify data management by automatically syncing customer information.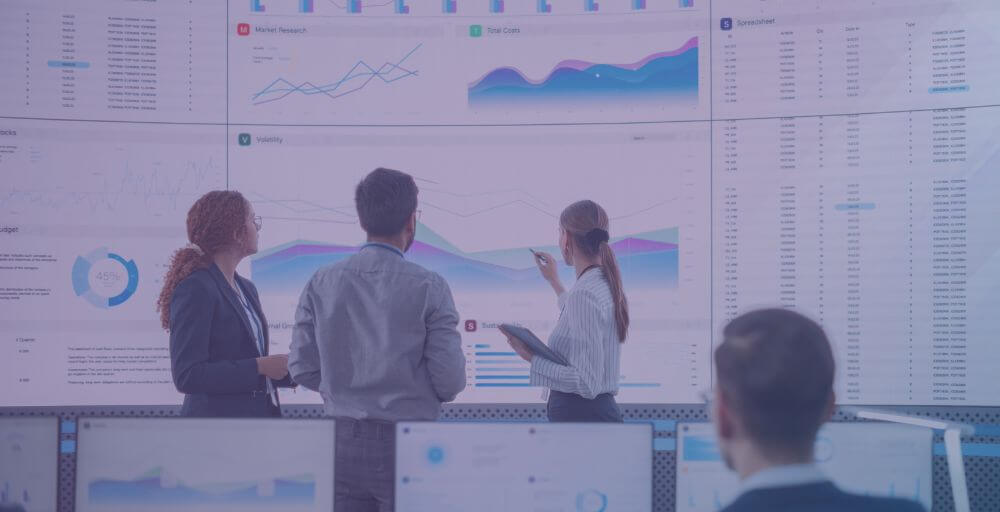 Act on your customer data immediately
with Radiant AI® Customer Reports

---
Radiant AI analyzes feedback, pinpoints urgent issues, and
delivers action plans to your team for quick, effective resolutions.
SEE HOW IT WORKS
VIEW SAMPLE REPORT
─ Engaging, mobile-first surveys

─ Radiant AI action planning

─ Self-service results dashboards

─ Follow-ups and social reviews

─ Sync social and external data

─ EMR integration
Engaging, Mobile-first Surveys

Create engaging surveys that reflect your brand and target customer experiences with our flexible design options. Our mobile-first surveys with tappable attributes mean customers are more likely to provide detailed feedback, giving you the insights you need to enhance your customer experience. Radiant AI will even write questions and attributes for you - just give it a topic in your own words and watch the technology go to work.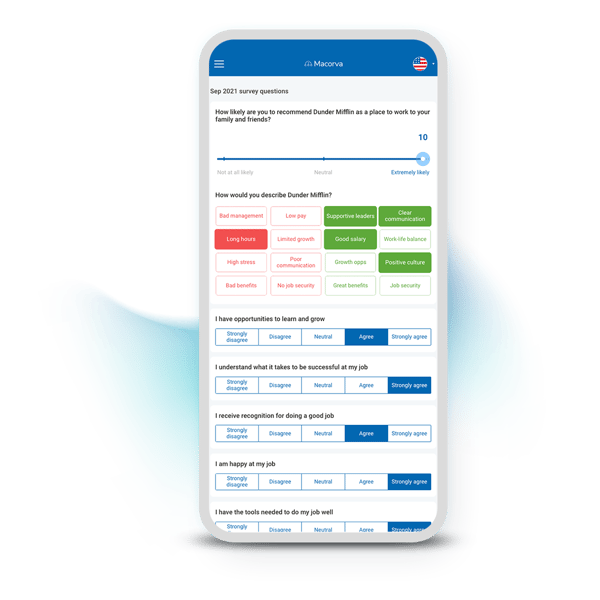 Radiant AI Action Planning
Harness the power of AI in your customer strategy to analyze feedback, identify trends, and suggest data-driven actions for enhancement. Radiant AI reviews all customer feedback collected from Macorva CX surveys and data imported from your existing feedback platforms and generates targeted actions for every submission. All reports summarize open text comments, flag critical feedback and deliver personalized response plans straight to your inbox, Slack or Teams app so your team can act on data immediately. With Macorva CX, you can now link customer experiences directly to employees with weekly scorecards that make it easy to spot top-performing managers and set up automatic, tailored growth plans.
View sample reports here
.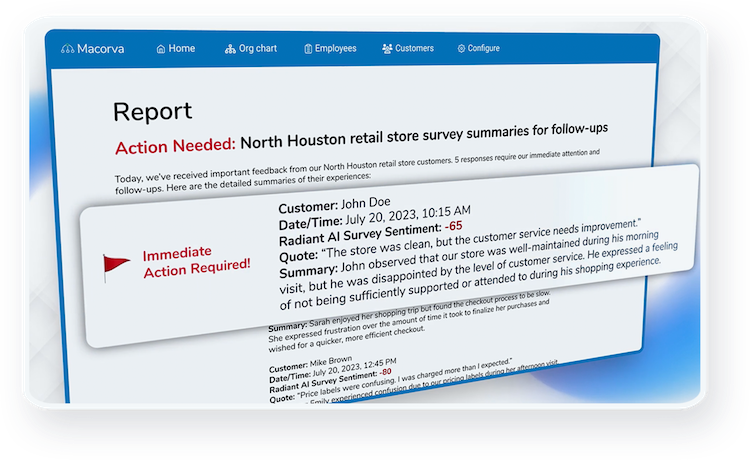 Self-service Results Dashboards

Make the most of your data with Macorva CX's intuitive, customizable dashboards. Create complex dashboards with a few clicks, no coding necessary. Segment, filter, and visualize data to quickly identify trends and respond to your customer needs. Combine results from hundreds of surveys using simple dropdowns, courtesy of our unique software design. To top it off, Radiant AI will generate a tailored report to explain the results of each dashboard, highlight outliers, and suggest next steps.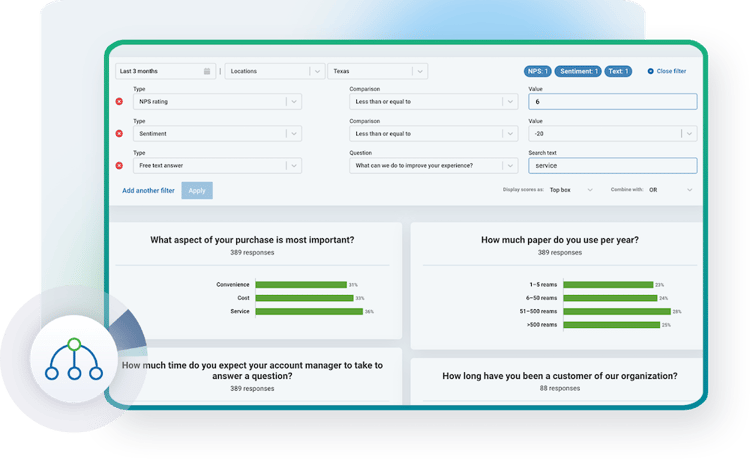 Follow-ups and Social Reviews

Engage with your customers and transform their positive experiences into valuable reviews. Automated follow-up surveys are triggered at crucial moments in your customer journey, using email, text, chat, QR codes, mobile apps, and more. Macorva's built-in review feature seamlessly encourages happy customers to leave a social review, with Radiant AI even writing the initial draft for them. If a negative result is received, employees are immediately notified and have access to automated response planning that enables you to respond to each customer in a thoughtful and effective manner.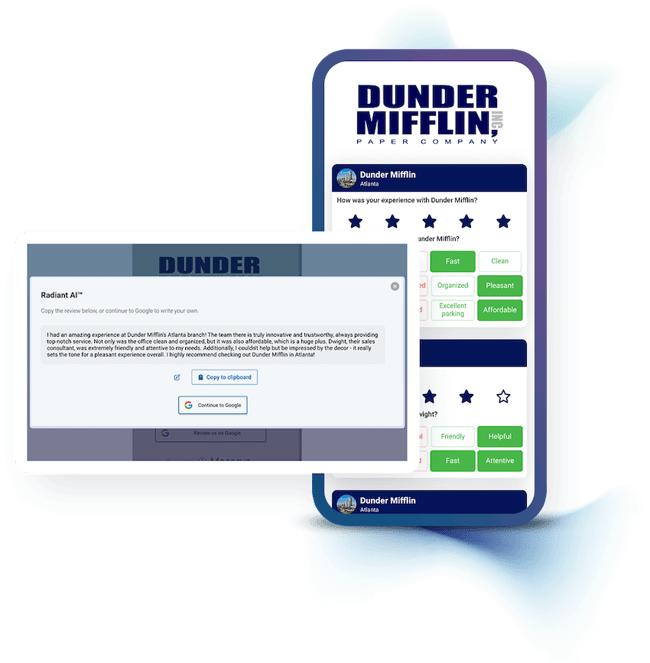 Sync Social and External Data

Get the most out of your existing survey data and create a holistic view of your customer experience. Macorva CX lets you easily sync survey data from social, external, or legacy systems, ensuring a smooth transition and continuity of your customer experience analysis. Once imported, we'll map your data into your Macorva database where you'll have full access to our powerful visualization, filtering, and analysis tools that allow you to make data-driven decisions and drive continuous improvement.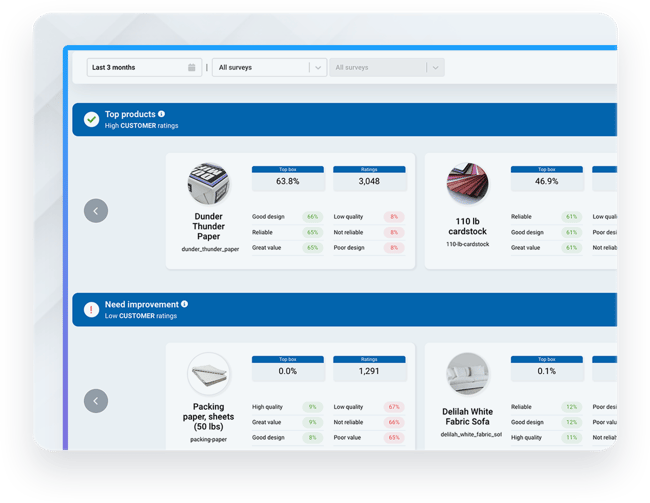 EMR Integration

Seamlessly integrate with your Electronic Medical Record (EMR) system to automate patient surveys and gather real-time feedback for quality improvement initiatives. By linking with your EMR, Macorva instantly triggers personalized patient surveys through email, text, chat, or patient portals, ensuring high participation rates and valuable insights. Best of all - Radiant AI provides personalized coaching to your clinical staff, helping to enhance the patient experience as you close the feedback loop.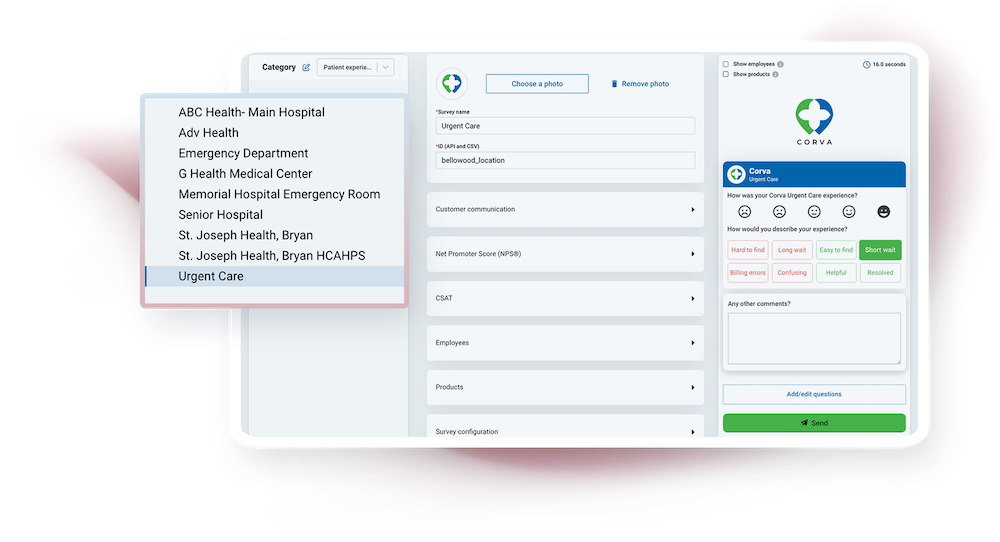 Macorva CX
Platform Benefits
Higher Customer Satisfaction
Boost satisfaction with Macorva's AI insights and personalized surveys.
Improved Employee Performance
Empower your team with personalized coaching to improve customer interactions.
Data-driven
Decision-making
Make informed decisions based on actionable insights from customer feedback.
Streamlined
Operations
Centralize your customer experience data and processes to optimize efficiency.
More Reviews and Referrals
Get more social reviews from your happy customers seamlessly with Radiant AI.
Competitive
Advantage
Beat competitors with AI-generated action plans, personalized coaching, and insights.

"It's refreshing to deal with a vendor that is flexible and wants to provide a product that meets & exceeds my needs, rather than working with a cookie cutter product my needs may not fit into."
Frequently Asked Questions
Can Macorva integrate with my existing
systems?
Yes, Macorva seamlessly integrates with over 30 ticketing, EMR, and CRM systems. Set up typically requires less than 5 minutes. We also have a native Salesforce application that is free to use, and a 2-way API for advanced integrations.
Can I customize your surveys to fit my brand and specific needs?
Of course. Macorva has extensive configuration options to help you create personalized, engaging surveys that reflect your brand and target your customers' unique experiences.
How does Radiant AI analyze customer
feedback?
Radiant AI uses machine learning and large language models to analyze both structured and unstructured customer data, identify trends, measure sentiment, and recommend data-driven response plans.
What kind of support do you provide for integration and implementation?
We provide dedicated expert support to help you set up, integrate, customize, and optimize your Macorva experience, ensuring you get the most value from our platform.
Can I track the progress of my customer experience initiatives over time?
Yes, Macorva allows you to track and measure the impact of your actions, identify trends, and continuously improve your customer experience strategy.
How does Macorva help me generate more positive customer reviews?
We connect to your business's public pages and help you engage and follow up with happy customers by generating detailed reviews from their response data and encouraging them to share their experiences.
How does Macorva CX notify employees when negative feedback is received?
Macorva CX has triggers that notify employees via SMS and email to act when negative feedback is received. This allows you to address any issues promptly and improve your customer experience.
How does Macorva CX's dynamic survey questions work?
Macorva CX offers dynamic survey questions/branching, which allows you to tailor your surveys based on the responses you receive. Our modern platform never has a dreaded "Next" button - all dynamic questions magically appear when triggered.
How do Macorva CX's AI response plans enhance customer communication?
Our AI-generated response plans provide customer communication scripts for every survey response received. This means that each customer's feedback is individually addressed, ensuring effective and personalized communication. These response plans are not just generic scripts; they are tailored to the specific feedback given by the customer, allowing you to address their concerns promptly and accurately.
Can I create custom dashboards with Macorva CX?
Yes, Macorva CX allows you to create custom dashboards with a few clicks and zero code. This eliminates the need for consultants and makes it easy for you to analyze your data.
What are tappable attributes in Macorva CX's surveys?
Tappable attributes in Macorva CX's surveys are interactive elements that allow customers to provide qualitative feedback in a simple and engaging way. By tapping on these attributes, customers can express their feelings and experiences more accurately. This feature has proven to be extremely effective, with over 99% of responses including the qualitative feedback necessary to implement meaningful change. This provides a deeper and more comprehensive understanding of your customers' experiences and needs.
Can I use multiple channels to reach my customers with Macorva CX?
Absolutely! Macorva CX is designed to help you reach your customers wherever they are. You can send surveys via SMS, email, mobile app, and even QR codes. This multi-channel approach ensures you can effectively engage with your customers, gather their feedback, and improve their experience, no matter what platform they prefer.
Ready to Chat?
Learn how you can transform customer feedback into effective growth plans with Macorva's AI-powered insights.