Powerful & Intuitive
Our easy-to-use platform was built for AI - allowing you to get
instant value throughout your workforce.
Unparalleled usability
Effortless experience management
You don't have to choose between a robust feedback platform and one that your entire workforce can use with ease. Macorva's modern, AI-integrated platform delivers both. Thanks to its user-friendly design, your team can start reaping the benefits immediately.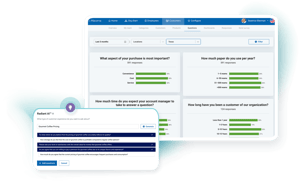 Self-service configuration made simple
Whether you prefer to dive in and get your hands dirty, or let our team handle the heavy lifting, Macorva enables you to swiftly launch and manage feedback initiatives.
System Integration
Connect to HRIS, CRM, and ticketing systems in minutes
Survey Design
Use AI generation to create engaging surveys for any scenario
Branching and Logic
Design smart surveys that adapt based on respondents' answers
Configurable Dashboards
Create custom results dashboards with just a few clicks
Audience Segmentation
Easily target the right groups and segments, no coding required
Response Planning
Let Radiant AI® craft flawless plans for thousands of surveys
Get All the Power Without Complexity
Our platform is designed to be comprehensive yet user-friendly, making it easy for businesses to gather and analyze feedback.
AI-guided survey design
Build modern, user-friendly surveys with ease
Build effective surveys with a user-friendly configuration page. Our intuitive controls and simple interface enables you to quickly design and distribute engaging, mobile-friendly surveys to capture valuable insights on any experience.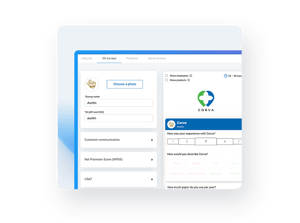 Intuitive dashboard setup
Easily navigate results and create custom views
View your data in a way that works best for you. Our intuitive, easy-to-use dashboards and analysis tools can be tailored to your needs to quickly spot trends, identify issues, and make smarter decisions.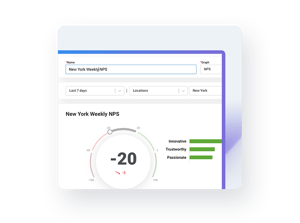 The value of usability
See how a user-friendly platform
results in more useful data
It's time to ditch those outdated feedback platforms from 25 years ago. Macorva's sleek, modern design empowers every member of your workforce, making it effortless to transform feedback into action.
With our modern, integrated platform you can get setup and jump into action up to 10x faster than traditional tools.
Say goodbye to lengthy and costly consultant projects. Macorva's robust technology cuts out the middle man.
Increase Program Effectiveness
Make it easy for employees and customers to provide feedback and for leaders to learn from their experiences.
Improve
Experiences
Our instant AI allows quick action on insights, helping you refine and deliver the most impactful experiences.

Ready for a demo?
Discover a modern and robust feedback platform that makes experience management effortless.