PPC Partners Case Study
Macorva effortlessly integrates with ADP, streamlining workflows and simplifying data
management by automatically syncing employee information.
Empowering Managers with AI coaching at Atrium Hospitality
Seeking an action-oriented employee feedback solution to support over 7,500 employees across nearly 100 locations, Atrium Hospitality partnered with Macorva for its cutting-edge AI that delivers automated, personalized action plans for managers at every level. By implementing Macorva EX, the company achieved:
30x ROI with AI-powered coaching vs consultants
Top 15th percentile response rate for full-scale engagement survey
500+ manager actions within 30 days of receiving results
Top 25% for employee engagement vs benchmarks
Personalized action plans for team managers at every level of the organization
Implementation in just 6 weeks with Workday integration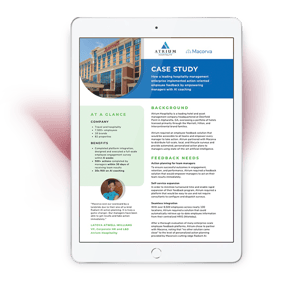 Ready to see a demo?
Learn how Macorva is empowering businesses to realize the full value of their employee experience data by closing the loop with AI-driven action planning and manager enablement.