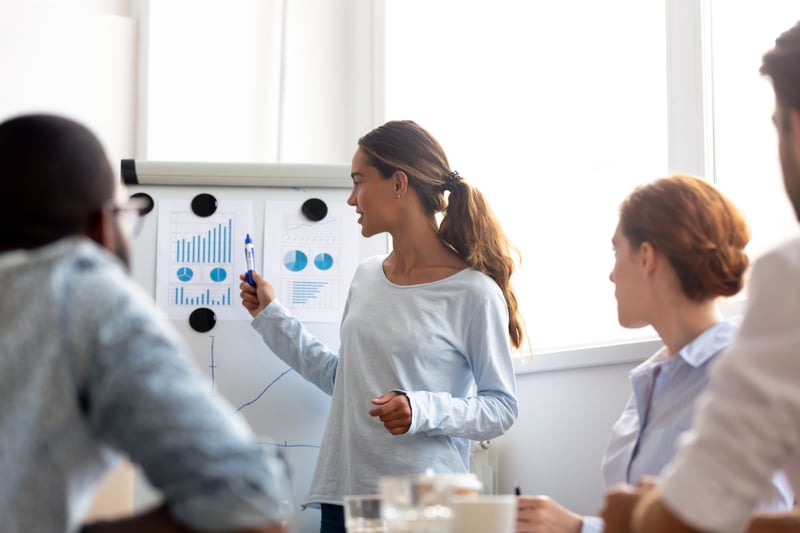 Employee recognition is widely known as a critical driver of engagement, contributing to a number of positive outcomes in the workplace. One study found that recognized employees have more drive and determination, better work relationships, and stronger connections to their company. Because of the many benefits of recognizing employees, many companies have taken steps to adopt formal recognition and rewards programs.

According to WorldatWork's "Trends in Employee Recognition" report, 89 percent of organizations have an employee recognition program. From financial rewards and gift cards to notes from the CEO and invitations to special events, recognition programs are great ways to show employees they are appreciated. However, one thing employee recognition programs don't do is tell you if you're recognizing all of your best people. If you want to realize the best return on your recognition program (a highly engaged workforce), you need to ensure you have a reliable framework in place for identifying standout performers.
To ensure you're recognizing all of the right people, it's important to understand the profile of the "Silent Superstar"- an employee who achieves great results but is often below the radar of a typical employee recognition or talent identification program. Silent Superstars are often employees who:

Act as formal or informal leaders and influencers among their peers

Are highly regarded by their direct and indirect reports

Work exceptionally well across functional and departmental lines

Pursue goals that are less visible to upper management

Do not publicize their own achievements and results
Here are six ways to find the Silent Superstars in your organization so that you can recognize them for their efforts and contributions:
Examine the Remote Employee Population
According to Upwork, two-thirds of companies have remote employees. In many cases, employees who work remotely achieve results without being under the watchful eye of managers. This doesn't mean their managers don't know what they're doing, but rather that their managers may be less informed about how they are doing it. When remote employees are handling a tough personality or leading a cross-functional project, their managers may be only superficially aware of the effort they put in or the results of that effort.
Silent Superstars are very commonly found in the remote employee population. They do great work, but not enough people see it because they are not physically present. These employees shouldn't need to abandon remote work to be recognized for their accomplishments. However, they can benefit from having managers who routinely make an effort to praise a job well done and pass along their work to other managers and teams. In addition, training and consideration for new or expanded roles can also be effective ways to recognize their skills and abilities.
Explore the Entry-Level and New-Hire Population
New hires and the "boots on the ground" population often do not have visibility beyond their direct manager. In the case of new hires, they simply haven't had the time to become well-known to those outside their immediate work group. In addition, annual succession planning in many companies typically focuses on managers and may not give enough attention to new employees or those in entry-level roles. However, Silent Superstars may exist within these groups. They can be identified by the following traits:

They question the status quo and offer suggestions to improve efficiency.

They value and pursue opportunities for continuous learning.

They are strong team players and may be taking on leadership responsibilities without waiting on formal recognition.
With proper recognition, newly hired superstars won't stay in their entry-level positions for long. Recognition puts them on a path to success where they can demonstrate their readiness to take on more responsibility and quickly earn the trust and respect of peers and coworkers on other teams.
Review Matrixed Teams
A matrix organizational structure helps ensure teams give adequate attention to geographical, product, and functional priorities. Contrary to popular belief, the matrix structure is no longer a rarity that exists only in very large or global organizations: according to Gallup research, 84 percent of employees are matrixed to some extent.
Although matrixed teams facilitate communication throughout the organization, they can also create a lack of clarity regarding employee contributions, which may hinder employee recognition efforts. For example, matrixed employees who report to more than one manager may find that neither manager knows the full story of everything they do to help other teams succeed. This means any search for Silent Superstars should also include a thorough review of employees who work on multiple teams or report to more than one manager.
Once you've identified Silent Superstars who are matrixed, some examples of actions that can bring them greater recognition include:

Bringing matrix managers together to discuss ways to work together in support of shared employee resources.

Seeking additional opportunities for cross-matrix interactions in the form of joint meetings or milestone celebrations.
Evaluate Company Leaders
Since Silent Superstars are typically held in high regard by their subordinates, they are also very likely to be strong managers. In fact, your pool of company managers may include a number of Silent Superstars who might be more concerned with letting their team shine than whether they are getting the recognition they're due personally.

To find these Silent Superstar managers, a great place to start is with the teams that have consistent performance and a strong sense of cohesion. That kind of team culture doesn't typically happen on its own; it is likely to be the result of a strong team leader who may not be as visible to the rest of the organization as they should be.
Employee feedback is critical to identifying Silent Superstars who have the potential to achieve greater organizational impact. A McKinsey article suggests that companies can find hidden leaders by taking a more proactive approach to identifying talent, for example, by what they call "trawling" for talent—using various forms of social networking and surveys to identify employees who are viewed by others as having strong leadership capabilities. Just by listening to those who work with Silent Superstars, you can find out who they are.
Help Managers Identify Their Top Performers
A key way to find Silent Superstars throughout the company is to equip their managers with the tools to identify and recognize them. Some managers may not understand the importance of highlighting the contributions of their Silent Superstars, and some may not know how to recognize them.

Others may be hesitant to shout out their top performers out of fear that they'll lose good people to promotions or transfers to other teams. Whatever the reason, you can leverage tools like surveys, 360-degree feedback, or informal feedback to help managers identify the Silent Superstars on their own team.

Training for managers can also help them see the importance of recognizing their best performers. Once managers see that identifying and recognizing their Silent Superstars helps them become more effective leaders, they'll be more likely to do it consistently.
Leverage Unfiltered 360-Degree Feedback
Employee feedback software is well-equipped to gather 360-degree feedback from managers, peers, and direct reports, and it often identifies a clear trend among Silent Superstars: They receive higher feedback scores from peers and direct reports than they receive from managers.

Qualitative and quantitative 360-degree feedback that includes input from not just managers and coworkers in the same department, but those outside it as well, provides a clear view of an employee's strengths and weaknesses and broadens the lens through which senior leaders and HR see employees and their capabilities. Broad 360-degree feedback also uncovers the disconnect between a manager's experiences with an employee and those of that employee's peers or direct reports, helping to start a conversation about the cause of the disconnect and how to bridge it.
_
Having the right tools to understand the impact of all employees in the company, whether they are new hires, matrixed, or remote, is the key to identifying and recognizing employee standouts such as Silent Superstars. Employee feedback software allows managers, peers, and subordinates inside and outside an employee's team to speak about their experiences with the individual, putting company leaders in a better position to recognize them and construct a development plan that will help them make an even stronger impact.