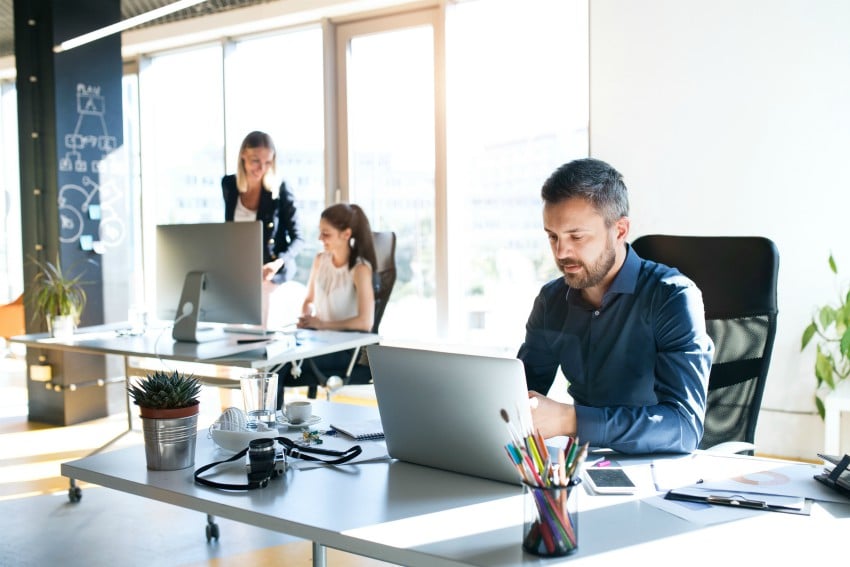 For some time, tech companies have seen a surge in employment. An annual CompTIA report found that tech employment now accounts for nearly 8 percent of the U.S. workforce, having added more than 260,000 jobs in 2018 alone.

With a focus on innovation, tech companies have proved the value of digital solutions in making processes more efficient. As the industry continues to expand, some unique opportunities remain for tech companies to create an environment that engages employees and positions them for optimal productivity and growth. Employee engagement software is a highly valuable tool that helps tech companies realize the many benefits of an engaged workforce. Here are six benefits of employee engagement software for tech companies:
Increases Data-Driven Decision-Making
Because they're in the business of developing solutions to today's problems, tech companies naturally rely on big data, analytics, and other quantitative means for making key business decisions. This approach also works quite well when it comes to managing the workforce, and employee engagement software is the ideal tool for facilitating better talent management decisions.

Employee engagement software supports better data-driven decisions about employees, teams, and company culture because it gathers qualitative and quantitative employee feedback and delivers actionable insights.
Employee engagement software enables every employee to submit feedback scores for their peers, managers, and subordinates, providing much more data about employees' experiences than a traditional survey or performance review would. Some examples of talent management decisions that are supported by employee engagement software include:

Which manager should lead a specific team
How to develop high-potential workers
When to reorganize a segment of the business
Helps Reduce Employee Burnout
Perhaps more so than in other industries, tech company employees are so focused on innovation and meeting ever-evolving customer needs that they can become burned out.

A recent survey found that close to 60 percent of tech employees are burned out. However, instead of simply reacting after employees have become burned out and their performance has begun to suffer, tech company leaders can take a more proactive approach with the aid of a reliable engagement platform. Employee engagement software can identify employees who are frustrated, who are burned out, or who need more hands-on leadership, before they suffer a drop-off in effectiveness or leave.
With the help of feedback that identifies employee pain points or areas where they need more support, company leaders can take action before stress takes hold in the workplace. Equipped with information gleaned from employee feedback, managers can address issues proactively, by taking actions such as:

Establishing training for supervisors to help them more effectively lead their teams
Engaging in follow-up conversations with employees who may be feeling overworked or underappreciated
Reorganizing select teams for greater efficiency
Highlights Employee Standouts
Successful tech companies possess a great deal of highly talented employees, many with specialized education, qualifications, and skills. However, it is often difficult to identify individual contributors with management potential or those who inspire others and have the most positive impact on employee engagement.

Employee engagement software addresses that challenge by helping companies identify individuals who have the potential to lead, who are ready for expanded leadership responsibilities, or who are struggling and need coaching or training.
When you can identify all of your company's standouts, you're in a better position to develop a plan for elevating those with key strengths and skills, and supporting those who may be struggling. For example, some employees may be "silent superstars" who are in need of more recognition from senior leaders, while others may be upwardly focused and require coaching on how to be more accountable to their peers.

Employee engagement software highlights those employee standouts so that company leaders know where they are and how to support their growth and development before they (or their coworkers) become disengaged or leave the company.
Ensures Effective Employee Engagement Activities
Tech talent is in high demand. Research by the Consumer Technology Association found that the vast majority of surveyed employers (92 percent) expressed a growing need for skilled tech workers. To retain existing staff and attract new talent, tech companies must be particularly vigilant when it comes to talent engagement initiatives.

As New Kind's Pippa Armes describes, "With our increasing reliance on technology and the innovation borne of the companies that make it, keeping the tech workforce happy and engaged is becoming a uniquely nuanced challenge."
Tech companies are well-known for creating a work culture aimed at keeping employees engaged. Many offer benefits such as flexible hours, free lunch, pet-friendly offices, game rooms, and more, all designed to drive engagement and productivity. Employee engagement software helps measure the degree to which those benefits actively support employee engagement, or whether employees see them simply as "nice to haves." For example, a survey not only asks employees about how much they value existing benefits, but it can also ask targeted questions that help identify new benefits or activities that would have a more positive impact on employee engagement.
Supports More Effective Workplace Communication
Tech companies are known for being nimble. However, they can't keep pace without strong communication and the ability to discuss and resolve issues in the workplace.

Employee engagement software supports workplace communication because it unearths issues that may be festering within teams or among coworkers. For example, some employees may be frustrated with a manager who doesn't share enough information about important initiatives.

Others may point to a lack of collaboration between certain teams as the cause for a slowdown in new product development. Through the power of feedback delivered by engagement software, managers have a chance to identify areas where mixed signals or duplicate efforts are hindering team effectiveness or where there are individuals who aren't communicating effectively.
By using an engagement platform that delivers feedback to every employee, it's easier to get to the heart of communication issues, discuss them with individual employees, and resolve them before they become a major roadblock to success. When that happens, employees are able to grow in engagement and their commitment to the company. Research shows that when employees are more engaged, they're also more productive. A Gallup study found that engaged work teams are 21 percent more productive than less engaged teams.
Guides Targeted Workforce Investments
In order to grow, every company must ensure that employees have the training and development they need to succeed. Tech companies, in particular, rely on employees with the most up-to-date digital skills. And given the need to compete for top tech talent, it's important not to miss out on key opportunities to make the right investments in people—investments that will help the company retain them.

Employee engagement software helps identify the areas that will deliver the greatest ROI while also strengthening employee knowledge and skills. For example, 360-degree feedback for each employee identifies individuals who will benefit from soft skills training, coaching, and mentoring. With a clearer picture of individual development needs, you can make targeted, timely investments in employee growth.
Employee engagement software not only measures employee engagement, but it also drives action to increase engagement and all its positive outcomes, such as improved productivity, stronger teamwork, and more capable managers. Employee feedback delivered through an engagement platform also allows tech companies to understand what's working in the workplace, what needs improvement, and how to help employees perform at their best.