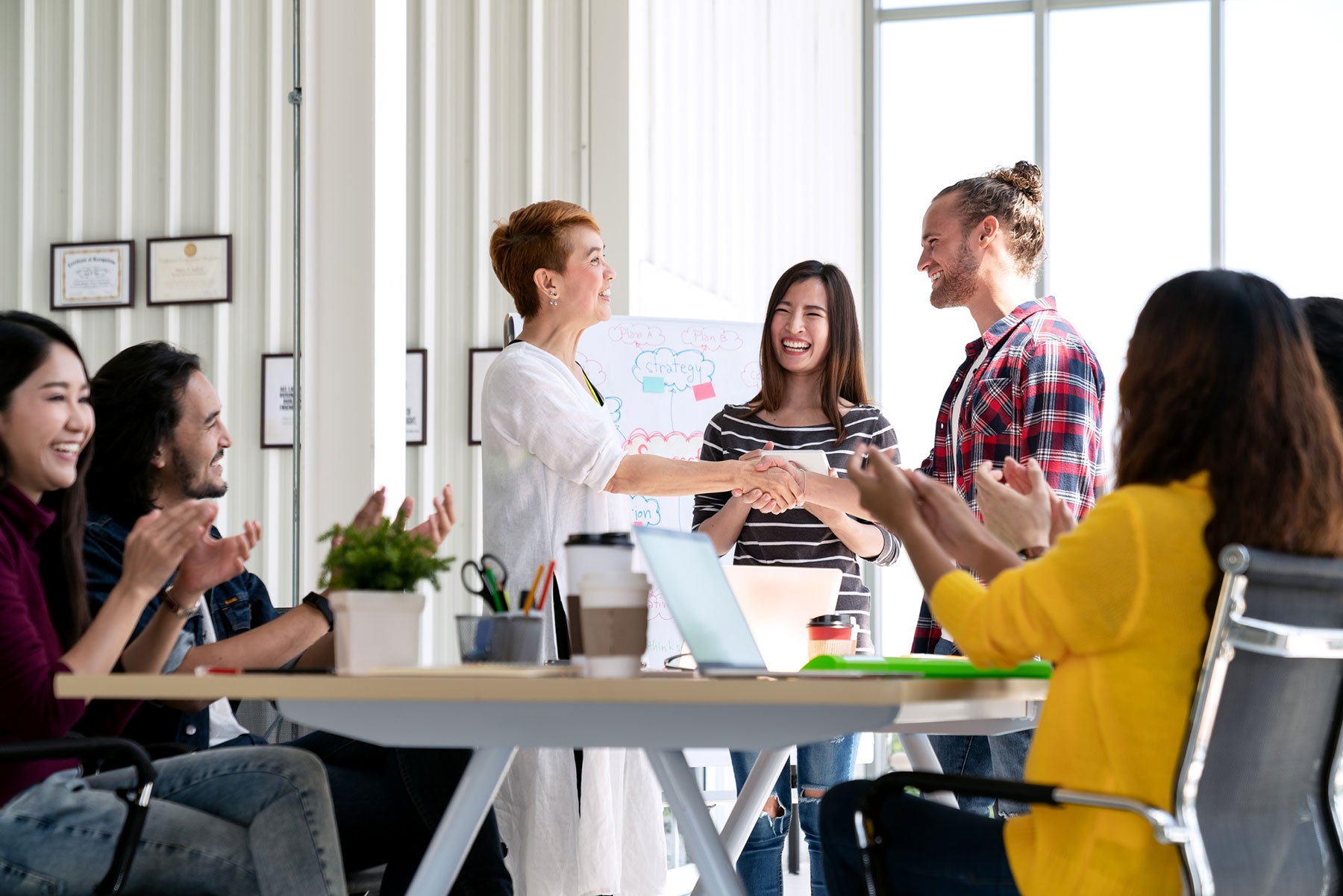 Employee engagement is critical for any organization, as highly engaged employees bring their best effort to everything they do in the workplace. When employees give their best, they ultimately help the company achieve its goals. However, most companies are not operating with a fully engaged workforce. According to Gallup research, only one in three U.S. workers is engaged. The rest are disconnected from their work to some degree, which means they're unlikely to live up to their potential at work. So how can company leaders foster an engaged workforce and unlock their employees' full potential? Studies have revealed several common indicators of an engaged workforce. These five drivers of employee engagement can guide company leaders in their mission to build a fully engaged, productive workforce.
1. Trust in leaders
Leaders set the tone for employee behavior, positive and otherwise. The actions of leaders can inspire or discourage. They can provide direction, recognition, and support, or they can promote fear, anxiety, and stress. Leaders can also be the reason employees stay or the reason employees leave. Their impact on employees is so profound that an HR.com report, The State of Employee Engagement in 2018, found the number one driver of employee engagement to be trust in leaders. To be engaged, employees need to know that all company leaders, from the CEO to frontline supervisors, are authentic, live up to their commitments, and act with integrity. Without that trust, employees can't be fully engaged.
Trust isn't built overnight; it has to be earned over time with consistent action. Some ways to build trust and improve employee engagement include:
Practicing open, honest, and consistent communication
Giving employees the resources they need to succeed
Providing direct and actionable feedback, and being receptive to feedback from employees
Trusting employees with responsibility and autonomy
2. Relationships with coworkers
In today's hyper-connected workplace, where new collaboration tools abound, perhaps now more than ever, employees need to develop productive, positive relationships with their coworkers. Considering the sheer amount of time many people spend at work, it makes sense that relationships with coworkers have an impact on employee engagement. Having a sense of camaraderie and teamwork helps people realize they're not alone. Positive relationships with coworkers provide opportunities to bond over shared experiences, ask for advice, and brainstorm ideas.
One research study found that when employees reported positive relationships with coworkers, they were more likely to be engaged. Just as feeling excluded or undervalued by one's peers can cause a person to feel less enthusiastic about their work, feeling a strong sense of team and mutual respect can help someone feel more positive about being at work and encourage them to give their best effort. Embracing the importance of community and positive working relationships is a meaningful step toward a fully engaged workforce made up of happier, more productive teams.
3. Opportunities for learning and development
Since most people aren't satisfied doing the same things the same way every day, the opportunity to try new things and learn new skills not only prevents boredom but also helps people achieve their career aspirations. Research has found that when people have opportunities to gain new skills and expand existing ones, they're more likely to feel engaged. According to a study by Udemy, learning and development "is a key driver in boosting employee engagement and retention." Its research found that the top reason employees felt disengaged at work was a lack of learning and development opportunities. Even further, 8o percent of surveyed employees said that more opportunities to learn and grow would help them feel more engaged on the job.
Offering varied training options that address a broad range of skills is a good start to investing in your workforce and improving employee engagement. However, learning and development opportunities aren't confined to a classroom. On-the-job experience, such as stretch assignments, cross-functional rotations, and mentoring, can also provide meaningful growth and learning opportunities that can improve engagement. Some companies also use coaching exercises to reinforce feedback and drive deeper learning and development among leaders at all levels.
4. Company values that resonate
Having meaningful core values isn't about posting them on a wall or listing them on the company intranet. Company values are more likely to resonate with employees and boost their engagement when you live them in an authentic way. In fact, one study found that 80 percent of employees felt more engaged when their work was consistent with their company's mission and values. Company values need to come alive for employees to be inspired by them. When the mission and values remain largely unknown or misunderstood by employees, they're little more than words.
Employees can get excited by company values that they understand and can incorporate into their daily work. When employees have the chance to align their behavior with company values, they will grow more engaged as they see their hard work translate into strong performance. Some of the ways to establish and communicate company values that resonate with employees include:
Reinforcing and repeating company values in writing and in meetings
Incorporating company values into key performance metrics
Ensuring company leaders are modeling company values in their behavior
5. Opportunities to give and receive feedback
Often, the best way to understand what drives employee engagement is to ask the employees. Every company can benefit from building trust, promoting positive employee dynamics, investing in employees, and instilling company values, but employee feedback is essential to understanding what else your organization needs to retain an engaged workforce. When employees are empowered to share their experiences, the organization can make informed decisions on how to improve engagement.
Direct feedback is a powerful driver of engagement, not only for those who give the feedback but also for those who receive it. Employees who give anonymous feedback are empowered by opportunities to share their actual experiences at work, and they benefit professionally from feedback from others. Feedback validates employees' experiences and promotes productive action, both of which help build an engaged workforce. There are many ways to encourage direct feedback throughout the organization, including:
Recognition mechanisms that enable peer-to-peer and manager-direct report shout-outs
An anonymous employee rating platform that allows employees to give and receive 360-degree feedback
Two-way feedback opportunities such as forums or town hall meetings that enable employees to provide feedback to senior management
Employee engagement is driven by a range of controllable factors. When employees have opportunities to connect with the company vision, their coworkers, and organizational leaders, they're more likely to develop a deeper emotional bond with the company and their work, leading to higher engagement and better performance. In addition, having opportunities to give and receive anonymous feedback empowers employees to share the truth of their work experiences, ultimately opening up new opportunities to get excited about their work. When the drivers of employee engagement work together in concert, the result is a more energized, engaged workforce.